If, in the past, Amethyst literally meant "absence of drunkenness" and was used in cups in order to drink wine without being drunk, today, and at the time of a more healthy lifestyle, it is useful for more psychological and health benefits.
With its deep violet color, this birthstone perfectly fills in the slight imperfections of Pisces. Carrying assurance, it brings confidence and will accentuate the already important open-mindedness of the February native. It is also beneficial for all signs because it favors spiritual elevation and rebalances the mind. Linked to the crown chakra, it is a connecting stone that also develops wisdom, intuition and psychic abilities while helping to combat addictions and obsessive thoughts.
If you are a Pisces or if you feel that the virtues of amethyst are those that will fill your gaps, here is a selection of jewelry to wear every day to feel pumped up!
Amethyst leaf pendant with diamond center – Jacquie Aiche
Améthyste roller – Persee Paris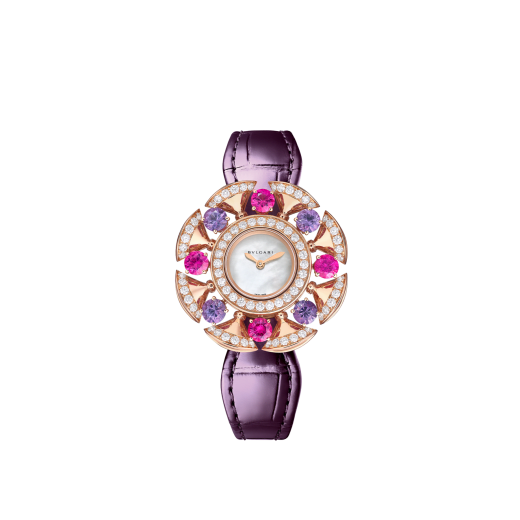 Diva's Dream watch in 18ct rose gold, diamonds, amethysts and tourmalines – Bulgari
Spread your wings earring in 18ct white gold, amethysts and diamonds – Akillis
 Cat Eye ring, 18ct pink gold central amethyst and paved pink sapphires – Spallanzani Jewelry
Cuff made of African pink wood, turquoise, amethysts and 24cts gold plated pewter setting – Hélène Prime