In October, autumn is well established but do not worry, Tourmaline will take care of your health! With its pyroelectric ability, the birthstone of Libras and Scorpios will warm your heart and soothe your mind.
We all need a little boost as winter approaches, whether physically or mentally, the dullness always prevails. So what could be better than a stone that sucks up and stores these bad energies to transform them and redistribute them into positive points?
Straight out of the East Indies, this stone with its multicoloured appearance is said to keep sadness at bay and help build self-confidence. Source of artistic inspiration, emotional booster and sometimes even useful to unblock certain phobias; Tourmaline, with its multiple virtues will know how to pump you up to spend the winter in all serenity.
So how to equip yourself with this stone, unstoppable against winter bad vibes?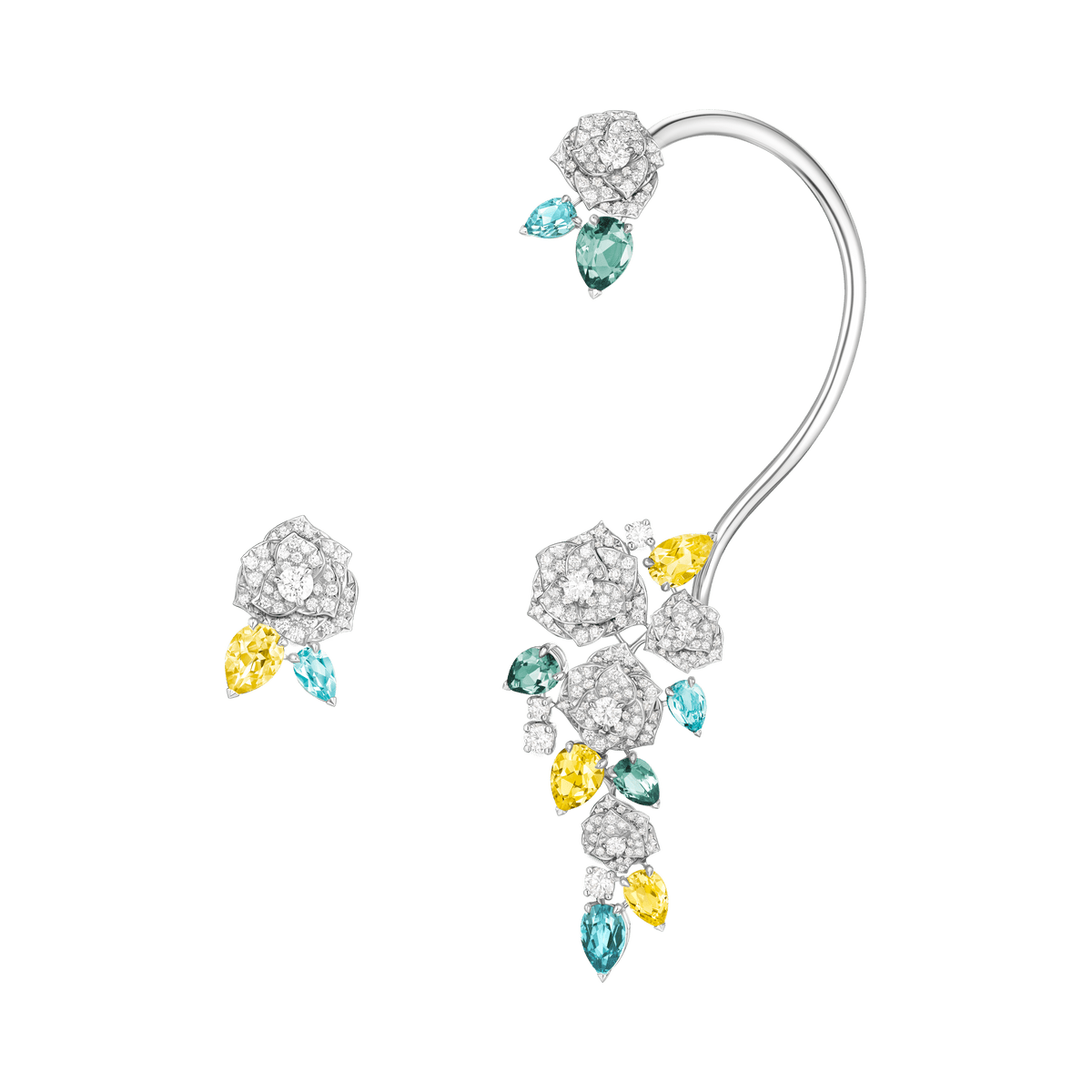 Adorn yourself with this white gold earring set with 288 brilliant-cut diamonds (approx. 2.40 ct), 2 pear-cut Paraiba tourmalines (approx. 0.65 ct), 3 pear-cut green tourmalines (approx. 2.30 ct), a pear-cut blue tourmaline (approx. 1.10 ct) and 4 pear-cut yellow beryls (approx. 2.70 ct). Full of elegance and fantasy, it will bring a modern and original touch to all your looks.
Boucheron ring, Vendôme liseré
This emerald-cut green tourmaline ring is proudly set with a line of round diamonds. Highlighted by a line of black lacquer, "it's the iconic Boucheron solitaire reinvented in a colourful version", you might say. As an engagement ring or for everyday wear, count on this sublime jewel to make you shine.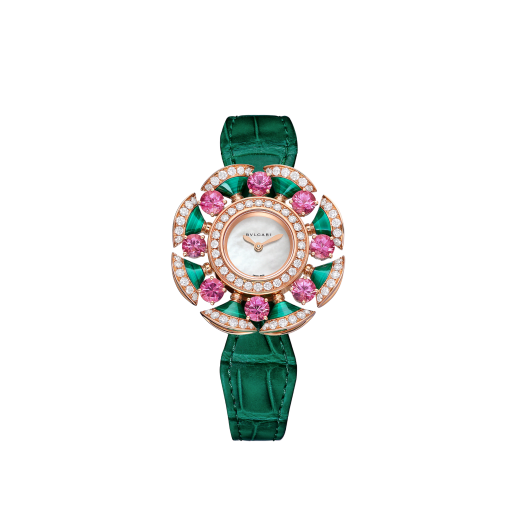 You will relearn to appreciate the passing of time with the DIVAS' DREAM High Jewellery Watch with its 18K pink gold case and petals set with round brilliant-cut diamonds, malachite and pink tourmaline inserts, mother-of-pearl dial and green alligator strap.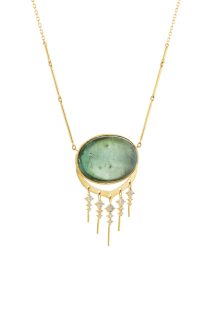 Green tourmaline shadow necklace & dangling diamond- Celine Daoust
Adorn yourself with this powerful spiritual necklace with its central tourmaline, designer Céline Daoust's favourite stone, which will protect you when worn.
Sundial green earrings – Jolly bijou
Since fashion is still green after the summer and rose gold remains the glamorous trend, you can continue to wear these sublime 14 carat rose gold earrings set with princess cut tourmalines without a complex!
The Chain Cabochon Peak – Alexia Demblum
Porcupine feather, 18K yellow gold with green and pink tourmaline.
Tourmaline en octobre candle – 290€ – Maison Romae
To complete and finalize your collection, light this candle in which there is a pink or green tourmaline of 2 or 3 carats nestled in a 100% vegetable beeswax and soya wax.